Now Playing

Endless Love

Rated: [PG-13] Sexual Content, Brief Partial Nudity, Some Language and Teen Partying
Running Time: 1 hr 45 min

Synopsis: Following their high-school graduation, Jade Butterfield (Gabriella Wilde), a sheltered but privileged teen, becomes enthralled with David Elliot (Alex Pettyfer), a working-class youth with a troubled past. Though Jade and David quickly fall in love, Jade's father (Bruce Greenwood) strongly disapproves of the relationship, while David's father (Robert Patrick) advises caution. However, their parents...

Movie HomePage
Preview (Requires Flash)

Upcoming Movies
Show Times:
Sunday - Thursday :
Friday & Saturday :

7:00pm
First Show 7:00pm
Second Show between 9:00pm - 9:30pm
Ticket Prices:
Adult: $7.00
Child: $5.00
Balcony: $9.00

3D Ticket Prices:
Adult: $9.00
Child: $7.00
Balcony: $11.00


[Movies that end after 9:30pm will not have a second show. Call theatre for details]


Matinee Times:
Sunday 2:00pm
Matinee Prices:
All tickets: $5.00

News:
[February 1st 2011]
The Robey Theatre now has a 3D projector for our 3D movies. Any movie with the "realD 3D" logo in the listing will be shown in 3D.

[January 27th 2010]
New photos under History.

[April 13th 2007]
We recently had our sign restored and held our sign relighting ceremony. It is our understanding that the sign hasn't been lit for more than 40 years. Here are some images from the event in case you missed it.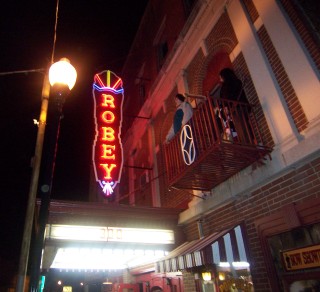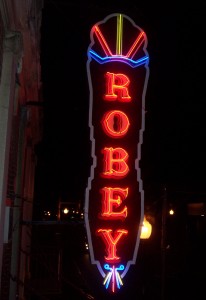 No outside food or drinks are allowed in the theatre. No weapons or firearms will be permitted in the theatre.